Godox CL10 RGB LED Ambient Light
CL10 LED Webcasting Ambient Light is no flicker, 36000 Colors LED RGB Light with 39 Special Light Effects, Studio Decorate Light with APP/Panel Remote Control, LED Video Light for Streaming, Record Videos, YouTubers.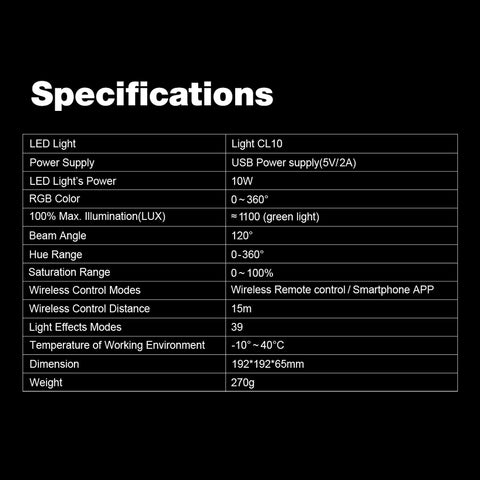 [Multi-Color LED Light]: Built-in RGB and HSI color function offers 36000 selectable colors for users to adjust flexibly based on variable needs during live streaming. It can support users to build recognizable personal style, illuminate video and atract followers and subscribers effectively.
[39 Light Effects]: 39 pre-programmed effects highly mimic lighting from real scenes to match with varies performance requirements and user's diverse fashion choices.
[Wireless Control]: Effective Control APP and IR remote control offers handy approach for users to quickly adjust and control all of lighting modes right in the palm.
[Excellent Cooling Design]: Built-in multidimensional heat dispersion can protect lighting from high temperature and prolong its service time.
[Continual Webcasting]: To make sure uninterruptible power supply for continuously live streaming, CL10 can be powered by adapter and type-c charging like power bank.